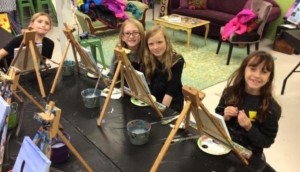 Join our amazing five week art classes for kids ages 6+.  Built off of our fun summer camp events, your child will explore and learn new techniques for artistic expression. We will paint on canvas, explore many other ideas/mediums as well including watercolor, pastels, polymer clay and chalk. This is a great art sampler for your child(ren).
When school is off in Bedford, we will not have class. We need four to hold the class, bring a friend!
Our studio is in the plaza with T Bones and is directly next to Frederick's pastries.
January 12, 2019




9:00 AM - 10:15 AM
Venue Phone: (603) 913-9217
Venue Website: thecanvasroadshow.com
Address:
25 South River Road
,
Bedford
,
New Hampshire
,
03110
,
United States